Over the quarantine, some friends invited me to be part of an amazing collab project. This Indonesian animated short film was brainstormed by Amanda Jayapurna and Stanley Soendoro, and with the help of the other team members, we finished giving details to their story. Blog cover made by Alyssa Lee.
Our team consists of:
Stanley Soendoro: Co-Director, Lead Animator (https://www.stanleysoendoro.com/ )
Amanda Jayapurna : Co-Director, Lead Lighting & Environment TD, Storyboards (https://www.amandajayapurna.com/ )
Andreas Smidt:  Lead Character Modeling TD (instagram @smidt3dart )
Christian Rodriguez: Lead Character Effects TD, Pipeline and Production Manager (https://crodimation.com/ )
Lorena Da Silva: Lead Look Development TD, Lighting , Assistant Pipeline Manager (me)
Nathan Huseth: Lead Rigging TD, Environment Modeler, Storyboards (http://www.nathanhuseth.com/ )
Alyssa Lee: concept artist (https://alyssaleeartworks.wixsite.com/alyssalee ) 
- Synopsis - 
A young girl visits her grandfather's home in rural Indonesia for the first time, and through exploring her cultural roots and the kite-maker's craft, they discover a new, exciting way to connect.
- Software -
Modeling in Maya and Blender
Material creation in Substance Designer and texturing in Substance Painter
Rigging in Maya
Lighting and rendering in Maya Arnold
- The Work So Far -
Nathan and Amanda came up with the storyboards. Me and Christian wrote the screenplay, while Stanley created the 2D animatic and 3D layout from it.
Andreas is in charge of sculpting the two characters: The grandpa and the granddaughter.
All of the team members have been modeling assets. One of the challenges in this project for me is stylized modeling, something I'm not too experienced with. 
We have created a Production Timeline and Asset List, to keep a schedule, deadlines, and overall organization. Right now, we are still in the process of finishing modeling the assets. 
I have been helping Christian, the Pipeline Manager, create some documentation so our team members can have some guidelines when uploading final products, such as assets, textures, files, etc. 
- Files Organization -
We have been using Google Drive to upload and download files. Christian created our pipeline: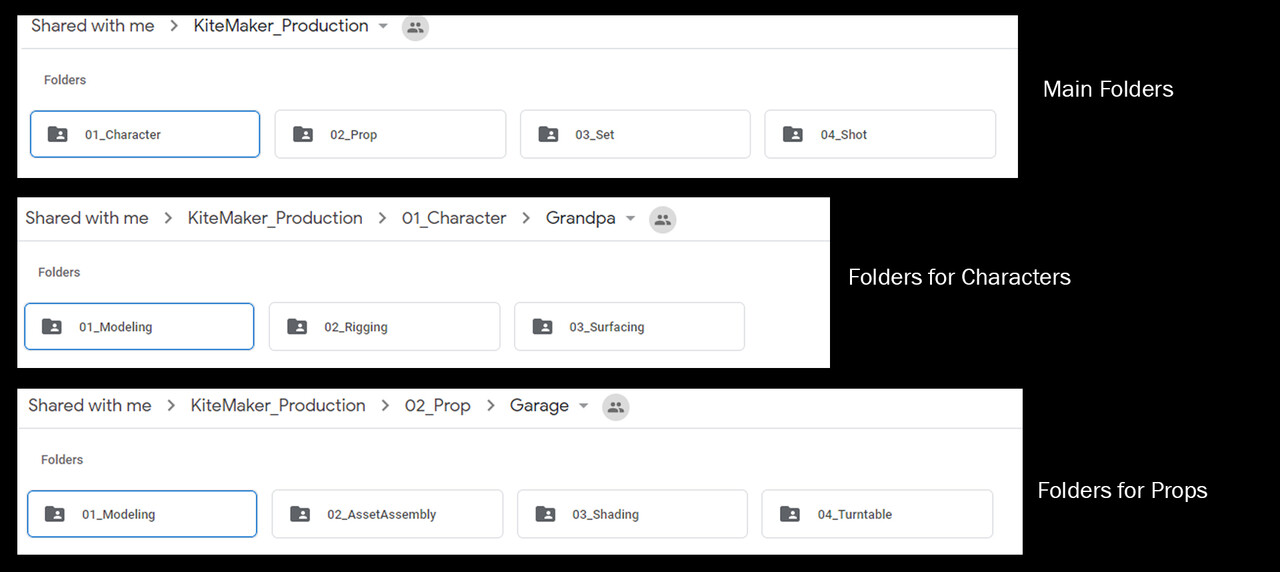 The "Asset Assembly" is a method we came up with, to reduce the amount of look dev files we were going to end up with. Because everyone on the team is modeling, we have a lot of small random assets. Instead of look deving each asset individually, we are going to assemble all the big assets that have other assets on top. 
Concept art by Alyssa
Example: Instead of look deving each book, cup, paper, etc, we are going to be assembling the main big assets. Like the workbench/workstation, someone modeled the table, and other people modeled the mug, books, cups, etc. So in a Maya file.
- 3D Models -
These are the 3D models I've done for the environment: a Parrot Kite, books, the bookshelf, watering can, plastic container, and pencils in a cup. So far, we are only focusing on one scene from the whole short film.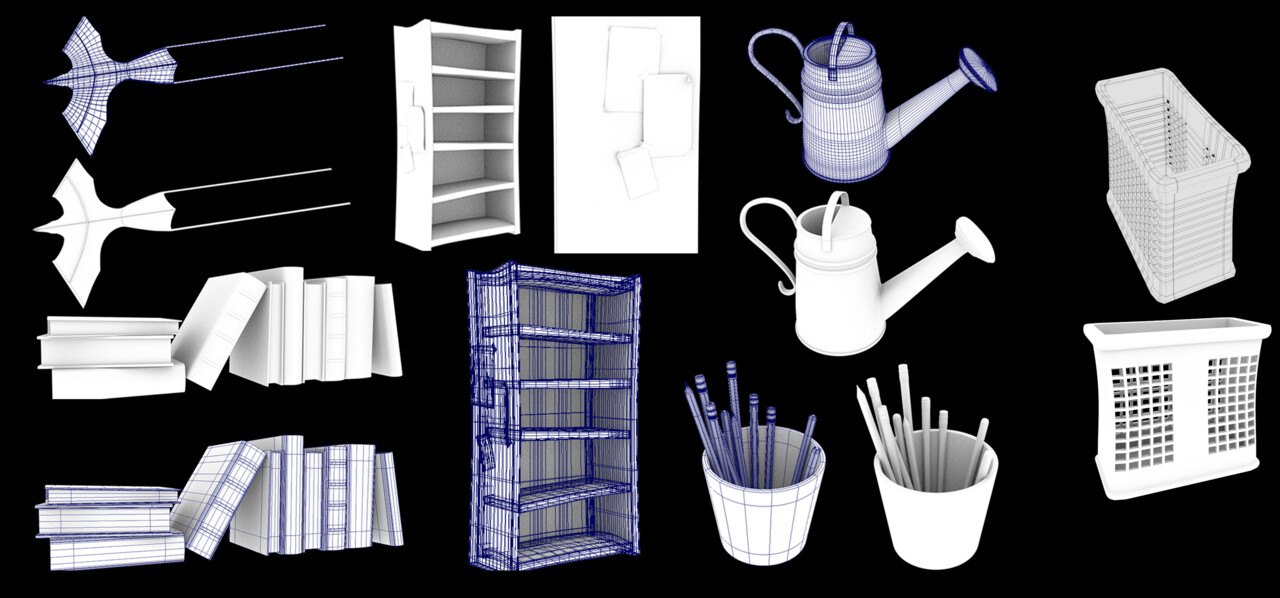 - Texturing -
I have been writing a "Shading & Texturing Guidelines for Submissions" for our crew. I am still adding to it:

I am going to be creating a displacement output from Substance Designer to work with displacement information instead of using the height output. I want to work in Substance Painter with a displacement channel added, instead of using the height channel for displacement.
I tried creating a Displacement output in Substance Designer, importing the .sbar file in Substance Painter, adding the Displacement Channel in the layer, and the information from the .sbar basematerial transferred well. The displacement appeared in the displacement channel in Painter, so that is good. I exported the maps with "Document channels + Normal + AO (No Alpha)" and the exported map images look correct. 
I want to be able to separate Height from Displacement, to be able to add details for bump/normal in the height map. 
Any suggestions/advice, more than welcome! 
Stay tuned for more updates :)